Most businesses will rent office space or lease company cars and this makes sound business sense, so why not apply these same principle to funding garage equipment?
In today's rapidly changing commercial environment, cash is the most valuable asset to any business, so why tie it up in depreciating assets? First Business Finance offers a flexible and convenient rental solution that is easy to manage and allows for flexible upgrading.
Whether you're opening a new garage or upgrading your existing equipment, purchasing any new garage equipment comes at a large upfront cost. Our simple rental solution agreements enable our customers to keep pace with the ever-improving equipment available.
With vehicles evolving year by year so must your garage equipment to meet client needs. Acquiring your new garage equipment via a specialist in garage equipment financing allows you to develop your business without putting a dent in available cash reserves.
Why to finance your new garage equipment
Financing your new garage equipment reduces the cost involved when purchasing the new equipment by spreading the payments out gradually over a fixed term. This method of upgrading your business enables you to pay off an asset using funds generated over the life span of the machine it is used.
An example of this would be adding an additional service bay to your garage which would allow you to service an extra vehicle at a particular time which would allow you to increase profits in effect paying for the financed asset during its use.
A few benefits financing garage equipment:
Spreads the cost

 

– as expected leasing will spread the equipment cost over an extended period of time.
It clears up capital

 

– this funding can then be put into other aspects of your business.
Smooth process

 

– our team make it is a pain free process to set up and arrange a finance agreement.
In essence finance leasing mirrors income

 

– businesses within the fitness industry often rely on monthly memberships and payments. So why not match this with the way that you pay for the fitness equipment.
Keep control over your finances. 
GARAGE EQUIPMENT THAT WE CAN FINANCE
Brake lathes
MOT bay
Service bay
Tool chests
Charging stations
Lifts
Dollys
Impact wrenches
Air compressors
Vehicle lifts
Jacking beams
Trolley jacks
Engine cranes
Hoists
Diagnostic equipment
Aircon equipment
Spray booths
Ramps
Wheel Alignment equipment
Tyre balancing machines
And much more
WHAT OUR GARAGE EQUIPMENT FINANCE CLIENTS SAY…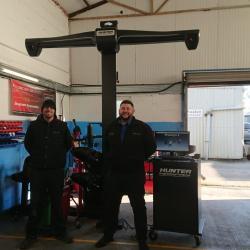 Ultimate Autocare Limited
Garage Equipment Finance
Anthony Luff – Director
"As a new business, we have been investing in new equipment so when we approached Tom at Pro align for a new Hunter wheel alignment machine, he put us in touch with Aston at First…
read more
Our team has worked closely together for over a decade with more than 50 years combined experience in all areas of asset business financing. We are able to offer a dynamic and knowledgeable approach that transcends a wide variety of market sectors including garage equipment finance & leasing.
First Business Finance offers a wider range of finance options than most of its competitors. Whatever our clients' requirements, we can provide a solution that meets their needs.