Prestige VEHICLE FINANCE, LEASING AND HIRE
If you're planning on purchasing a sports car, luxury vehicle, supercar or a classic car, there is an easy way to obtain your desired vehicle without the large upfront cost.
First Business Finance are able to help you with all aspects of prestige car purchase from finance lease, hire purchase, contract hire to contract purchase. Whether you need us to finance one vehicle or many, we will always offer you our high level of service. The team at First Business have over 50 years of expert industry experience across many sectors.
WHY CHOOSE TO LEASE YOUR NEXT VEHICLE?
Finance Lease
Finance lease offers low up-front costs and a repayment structure where rental payments can be tailored to match your cash flow. With fixed or variable interest options, you decide which suits you best. This offers tax advantages as VAT is payable on the rentals, not the purchase price, while payments can normally be offset against taxable profit (special rules apply to cars).
Hire Purchase
Hire purchase – sometimes known as lease purchase – is a simple repayment facility, where you eventually own the asset at the end of your agreement.
Contract Hire
Car or van contract hire allows you to fix your costs without the burden and risk of owning your own vehicles and maintenance can be included. The cost will depend upon two main criteria: the annual mileage and length of hire.
Contract Purchase
Contract purchase is very similar to contract hire but, at the end of the contract, ownership can be retained by making a final balloon payment. Alternatively, the vehicle can be returned to the finance company for resale, with no further payments due.
BENEFITS OF VEHICLE FINANCING
Spreads the cost – spreads the cost of your new vehicle over an extended period of time.
It clears up capital – this means funding can then be put into other aspects of your business.
Smooth process – our team of experts make it a pain free process to set up and arrange a finance agreement.
Keep control over your finances. 
WHAT OUR PRESTIGE VEHICLE FINANCE CLIENTS SAY…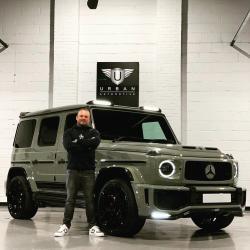 Prestige Vehicle Finance
Paul Dawber – Director
"This is the second time using Aston's services and again, he was on the ball, quick, and got me a better deal than elsewhere. I couldn't really ask for more and will 100% recommend him…
read more
Our team has worked closely together for over a decade with more than 50 years combined experience in all areas of asset business financing. We are able to offer a dynamic and knowledgeable approach that transcends a wide variety of market sectors including vehicle finance, vehicle hire & vehicle leasing.
First Business Finance offers a wider range of finance options than most of its competitors. Whatever our clients' requirements, we can provide a solution that meets their needs.