CATERING EQUIPMENT FINANCE
First Business Finance specialise in catering equipment finance and leasing. FBF have supplied a wide variety of different equipment to all types a range of businesses that need to prepare food and drink. We work with many business types from cafes, pubs and restaurants to hotels and bakeries.
If you choose to lease catering equipment through FBF, be it for food equipment leasing, food preparation equipment or kitchen appliances, we are able to create a bespoke funding/finance solution that suites your business needs.
Our team has worked closely together for over a decade with more than 50 years combined experience in all areas of asset business financing. We are able to offer a dynamic and knowledgeable approach that transcends a wide variety of market sectors including kitchen/catering finance.
Catering equipment that we can finance:
Cooking equipment – such as commercial ovens, range cookers, pizza ovens, grills, griddles, BBQ's, rotisserie ovens. fryers and microwaves.
Kitchen equipment – such as commercial dishwashers, sinks & taps, prep areas, extractors, heating & cooling, racking, stainless steel tables, shelving and hot/cold stations.
Food preparation equipment – such as commercial food processors, blenders, juicers, mixers, bone saws, vacuum sealers and veg prep units.
Kitchen hygiene – UV Sterilisers, Fly killers, hand dryers, Towel warmers, washing machines, dryers, air purifiers and laundry units.
Refrigeration equipment – such as fridges, freezers, cold display units, refrigeration displays, serve over counters and open front chilled displays.
Epos, till systems  and cash registers
Restaurant furniture – such as tables, chairs, garden/outdoor furniture, lighting, barrier systems, locks and cloakroom furniture.
Coffee machines & Commercial Beverage Machines
And much more.
WHAT OUR CATERING FINANCE CLIENTS SAY…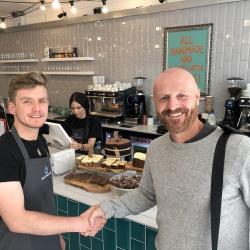 Catering Equipment Finance
Tom Rowett - Director
"First Business Finance has been intrinsic in helping us expand our Yummy Scrummy Bakery /Cafe sites and brand. Finance for catering equipment , furniture, fixtures, fittings, lighting, EPOS , you name it! David and his…
read more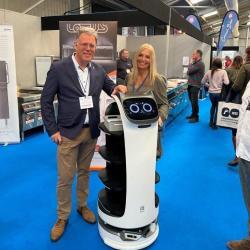 Catering Equipment Finance
Nick Rowland
"Qtos has worked with First Business Finance for nearly 10 years now, with Dave and Shannon handling our account in a friendly, professional way and we have become good friends over the years. First business…
read more
First Business Finance offers a wider range of finance options than most of its competitors. Whatever our clients' requirements, we can provide a solution that meets their needs.